Acquiring a garden
One of the consequences of buying a house, is that you usually get a garden to go with the house. I'd never owned a garden before. Prior to 2015 I'd lived in a second floor flat with no garden. I had no idea what to do with my newly acquired garden that came with the house I bought. Because of my connection to Birmingham Friends of the Earth I knew some people who have in depth knowledge of Gardening. Adam was one of these people. In 2015 he was studying a Permaculture Course. Roughly speaking, Permaculture is a set of principles to try and garden and farm in a sustainable way, including reusing materials where possible and using nature as part of the designs. As part of his course he had to design permaculture gardens. Of course, I was ecstatic to volunteer my garden for a design to be included in his course.
Permaculture Design
Adam came around to my house and conducted a thorough survey of my garden. He tested the soil, noted which direction the garden faced and did a lot more than that. The previous owners had left a shed and wooden mulch. In terms of wildlife or plants, there was not much going on. For my part, I had two requests for the Permaculture design. I wanted my garden to be nature friendly and to be low maintenance. I'm not an experienced gardener and feared being overwhelmed. Adam took my thoughts into account and then came up with three potential plans that we could go with. They were very impressive. Having considered the three designs, I decided to go with the one that involved a pond. Ponds are fantastic for wildlife. If I could attract Frogs to my garden, I would be happy. I'd been given a brief to find people and peat free compost. To obtain people, I knew that pizza was the best strategy and peat free compost was widely available from garden centres.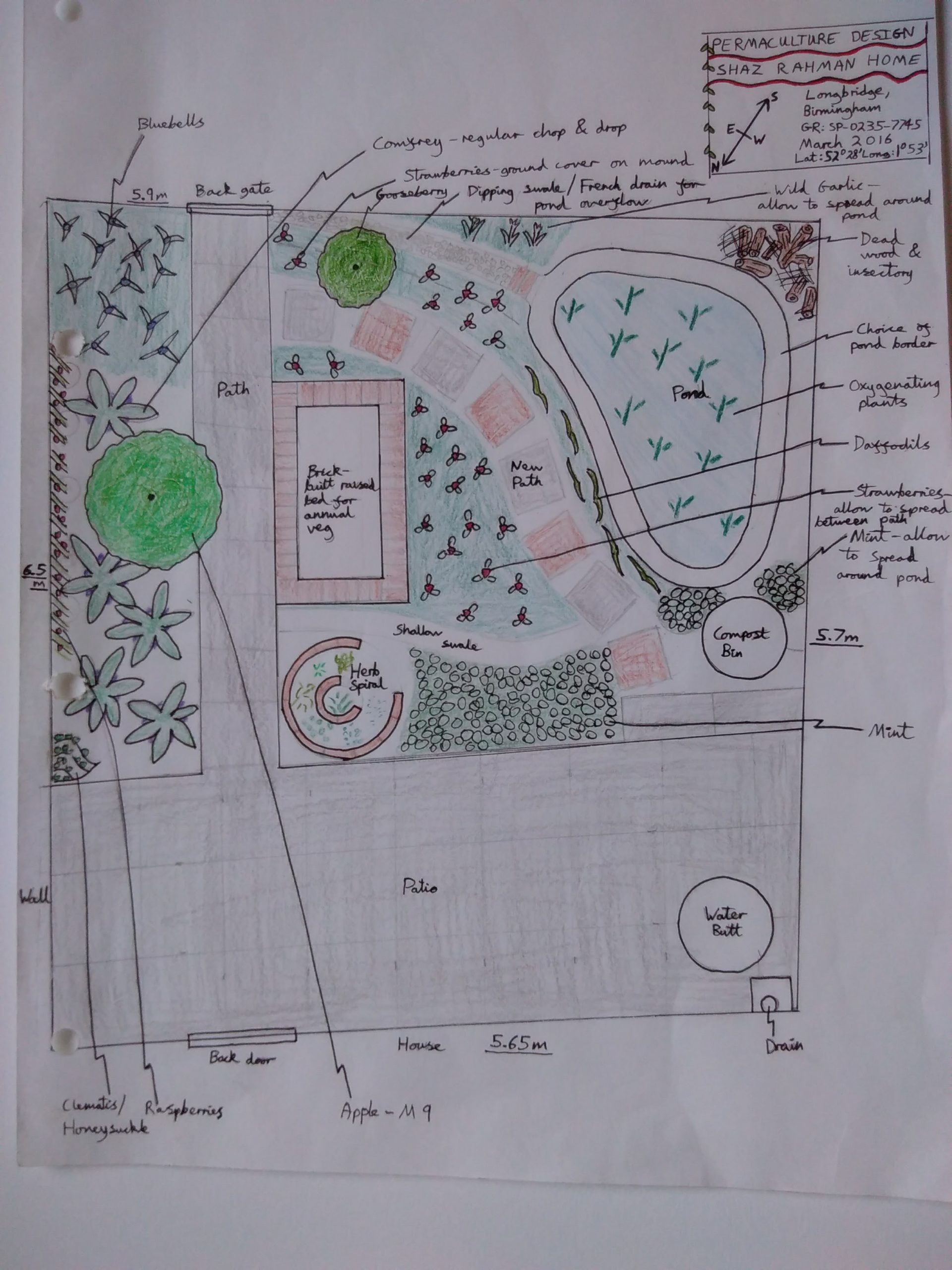 Permaculture Blitz
On a Saturday morning I had some eager and not so keen volunteers arrive at my house. They were all keen to eat pizza but grudgingly accepted that they'd have to do some gardening beforehand. By this point, the shed had already been taken down, and now lived as shards of wood in my garage (where it still lives). There were many tasks to complete. A friend had some spare pond liner, which they gave to me. A few people began digging a hole big enough for a pond.
Once the hole was dug, these people lined the pond. In an unexpected move, an overspill trench was dug, that went under some slabs. This was in case the pond ever flooded. Whilst this was going on the wooden mulch had plants, including Comfrey, and Strawberries. An old bin was repurposed into a compost bin with the lid of the old bin becoming a table to feed birds. An herb spiral was concocted, with a plentiful supply of mint. Fortunately for us, there were many bricks abandoned in the alleyway behind my house. We had to chisel the mortar off some of them, but they were still usable.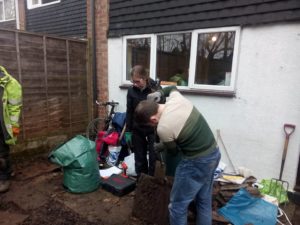 Volunteer Ben took these bricks and created a raised bed, in which I grow potatoes in. A Water Butt was installed so I could use rainwater to feed the plants. Holes were dug under the fences, creating a Hedgehog corridor.
By the end of day, the garden had been completely transformed. What was once a shed and wooden mulch, was now a wildlife friendly ecosystem. Everyone who had helped, deserved pizza. Sadly for me, I was tricked into buying much more expensive pizza than I was planning. However, even with the extortionately priced pizza, the help from everyone involved was appreciated.
A Nature Friendly Ecosystem
It's been four and a half years since my garden was transformed into a nature friendly ecosystem. Every summer my garden buzzes with wildlife. Bees love the Comfrey and other plants. There is the never-ending battle between myself and the Slugs, who love the Strawberries grown. I eat the Potatoes grown in the Raised Bed. I've found both Frogs and Hedgehogs in my garden. I've been given tyres, which I grew Marigolds in. When I moved in, the soil was incredibly clayey, but by growing plants every year, the soil is nowhere near as clayey as it was four and a half years ago.
My garden has developed significantly since I moved into my house. I take great pride in looking out to my garden in Summer and seeing the wildlife activity that is occurring.
By Shaz Rahman
This article first appeared on Shaziety.com